Today, I discovered something full of charm and whimsy in the vegetable section of About Life in Rozelle… Rainbow Chard! What? Exactly. I had only ever known it as silverbeet, and only ever known it to be white and green. Wrong! It is also called chard and comes in rainbow colours! So, naturally I had to have a bunch… But what to do with it? Admittedly, I have never cooked silverbeet before, but I came across a recipe for Silverbeet and Mushroom Pie… however, it was a cheater's pie, with no pastry, which does not constitute a pie in my world. Pie = Pastry. End. Of. Story. So, I used the recipe as a filling, for a real pie.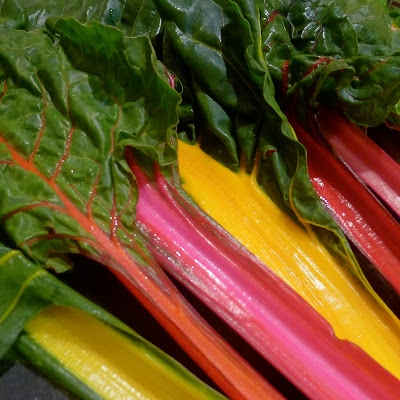 Ingredients
Pastry

– 225g plain flour
pinch of salt
150g diced cold butter
4 tablespoons of water

Filling

– bunch of rainbow chard (silverbeet)
500g or so of mushrooms
brown onion
3 cloves of garlic, crushed
olive oil (on hand to free pour)
1/3 cup Swiss Cheese, grated
300ml lite cream
4 eggs
pinch of nutmeg
salt and pepper, to season
Method
Using either a food processor or mixer or your hands, combine the flour and butter until it resembles breadcrumbss, then add the water and stir through until it comes together. Form into a ball and wrap in plastic for refrigeration for at least 30 minutes.
While the pastry chills, preheat the oven to 180 degrees. When pastry is ready, roll out and line a 20cm pie dish. Spike the bottom of the shell so it doesn't bubble up. Blind bake the shell until it turns a golden brown (about 15 minutes).
Finely chop the onion and sauté in a saucepan with some olive oil. Add the garlic. When onions are golden, add the chopped mushrooms and cook for a few minutes, stirring throughout the cooking process. Keep adding olive oil to lubricate the ingredients, so they move with ease and don't get stuck to the side of the pan. Add the roughly chopped chard and let it wilt. Stir and turn off the heat.
Whisk together in a bowl, the eggs, cream, cheese, nutmeg and salt and pepper to taste. Fill the baked shell with the chard mixture then pour in the liquid filling. Cook in 180˚C oven for about 30 minutes or until the filling is solid.
Take out pie from oven, and place on top the pastry lid (this is still raw dough). Seal with a bit of egg wash to the rim of the pie. Put pie back in oven for another ten minutes or so, or until the pastry is golden brown.
Never having made this before, I was quite impressed with it. It is a hearty, honest meal with delightfully flaky and rich pastry, and joyous shards of rainbow chard inside.