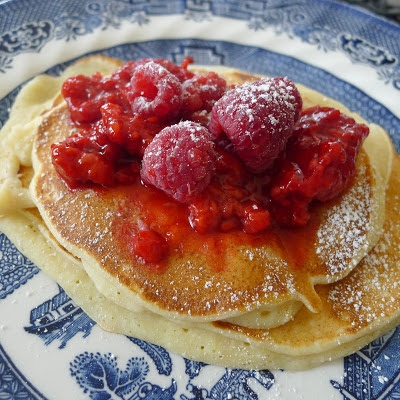 We are so busy being adventurous with lunch and dinner that sometimes we forget there are gorgeous and varied yummies we can have for breakfast. These lemon ricotta pancakes make for a lovely summer breakfast and can even be made slightly bleary-eyed as they are simple and won't make your brain hurt.
Ingredients
3/4 cup flour
1 tablespoon baking powder
1/2 teaspoon ground nutmeg
1/4 teaspoon salt
2 tablespoons sugar
1/2 cup ricotta cheese
2 eggs
2/3 cup milk
juice and zest of 1 lemon
Directions
Mix all dry ingredients into a bowl.
In a separate bowl, whisk together the ricotta, eggs, milk, lemon juice and zest.
Slowly add the dry mixture into the wet one, mixing until just incorporated.
Heat a large pan over medium heat and pour in the pancake batter, making sure to turn each pancake before it gets too brown.
Serve with whatever you like. I made a simple raspberry sauce and threw some fresh raspberries on top for texture.