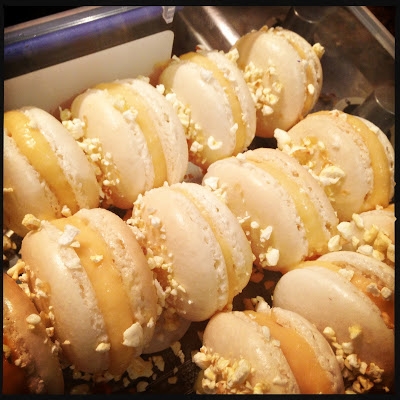 One bite of these macarons, and you're instantly transported to a dark cinema, credits rolling… These macarons taste so incredibly much like popcorn, and popcorn tastes like the movies.
Apart from adding popcorn to the top of the shells, they are just a basic French meringue macaron shell. I didn't even add any colouring as their natural colour is a lovely shade of popped corn.
The filling is a decadent smack of butter and just when you thought that butter couldn't get any richer, you add egg yolks to it! Needless to say, these are the type of treats you can only have one of… I would fail trying to eat a second.
Basic Shell Recipe
Ingredients
120g almond meal
200g icing sugar
100g egg whites
30-35g caster sugar
bag of butter flavoured microwave popcorn
melted butter to brush
Method
Preheat oven to 150˚C. Make up the microwave popcorn and blitz in a food processor. Sift the almond meal and icing sugar into a large bowl and mix together.
Beat the egg whites on low speed until they are foamy and then gradually add the sugar and beat on medium until stiff glossy peaks form.
Add a 1/4 of the almond meal mixture into the egg whites and fold, continuing to add the rest of the mixture in, a quarter at a time until all combined. The mixture should be of the consistency, that when a ribbon of it falls from the spatula into the bowl, it disappears slowly back into the mixture, not leaving a trace.
Fill a piping bag and pipe macarons onto a baking tray lined with baking paper and bake for approximately 15 minutes.
Whilst still warm, brush the shells with melted butter and sprinkle with popcorn.
Remove from the oven and leave to cool before filling
Filling
Ingredients
100g caster sugar
38g water
75g lightly beaten egg
45g egg yolk
200g unsalted butter, chopped and softened
3g sea salt flakes
Method
Over medium-low heat, melt the sugar and water and then increase the temperature and cook until the syrup reaches 121˚C.
With an electric mixer, whisk the egg plus egg yolk for about 2 minutes. With the motor running, pour the hot syrup, in a steady stream and mix until thick.
Add the butter slowly, a cube at a time and mix well to ensure there are no lumps. Fold through the salt.
Fill a piping bag and pipe onto the shells. Be gentle – the shells are fragile. Refrigerate to set.