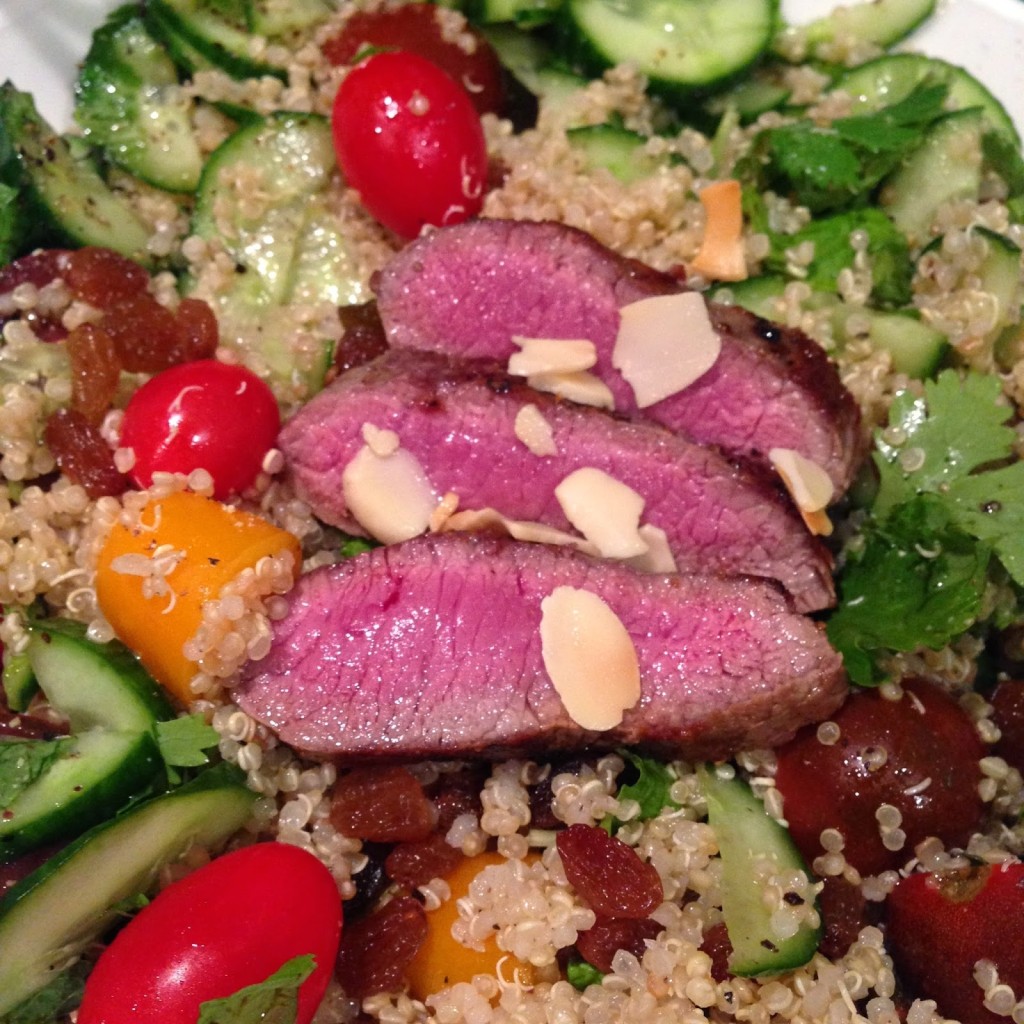 Quinoa. Having yet to jump on the bandwagon for this trendy, pseudo-grain, I had only ever had a spoonful here and there as I picked at friend's lunches and breakfasts. I had never cooked with it, but was delighted by its ease.
The following recipe takes inspiration from Gordon Ramsay's Ultimate Home Cooking. What stands out about this dish is its freshness and bold, unadorned flavours. Gordon Ramsay always knows when to leave produce alone to stand without culinary clutter.
Ingredients
1 cup quinoa
1 cucumber
big handful cherry/grape tomatoes
handful mint leaves, chopped
handful coriander, chopped
40g flaked almonds
handful of sultanas
juice of half a lime
lamb tenderloin (about 300g)
olive oil for drizzling and cooking
salt and pepper, to taste
Method
Bring one cup of quinoa together with two cups of water, simmer for 15 minutes or until quinoa is cooked. Cool the quinoa while you prepare the lamb and other ingredients for the salad.
Season the lamb with olive oil and salt and pepper. Remember to bring the meat to room temperature before cooking in a pan with olive oil on high heat, for about 2 minutes on each side, or until cooked to your desired level.
While the lamb rests, add the flaked almonds to a pan with some olive oil in it and cook until a lovely golden colour. Add the remaining ingredients to the quinoa and toss through, finishing off by squeezing the lime over the salad and sprinkling with the almonds.
When the lamb has rested half its total cooking time, slice and arrange on the salad. Delicious.