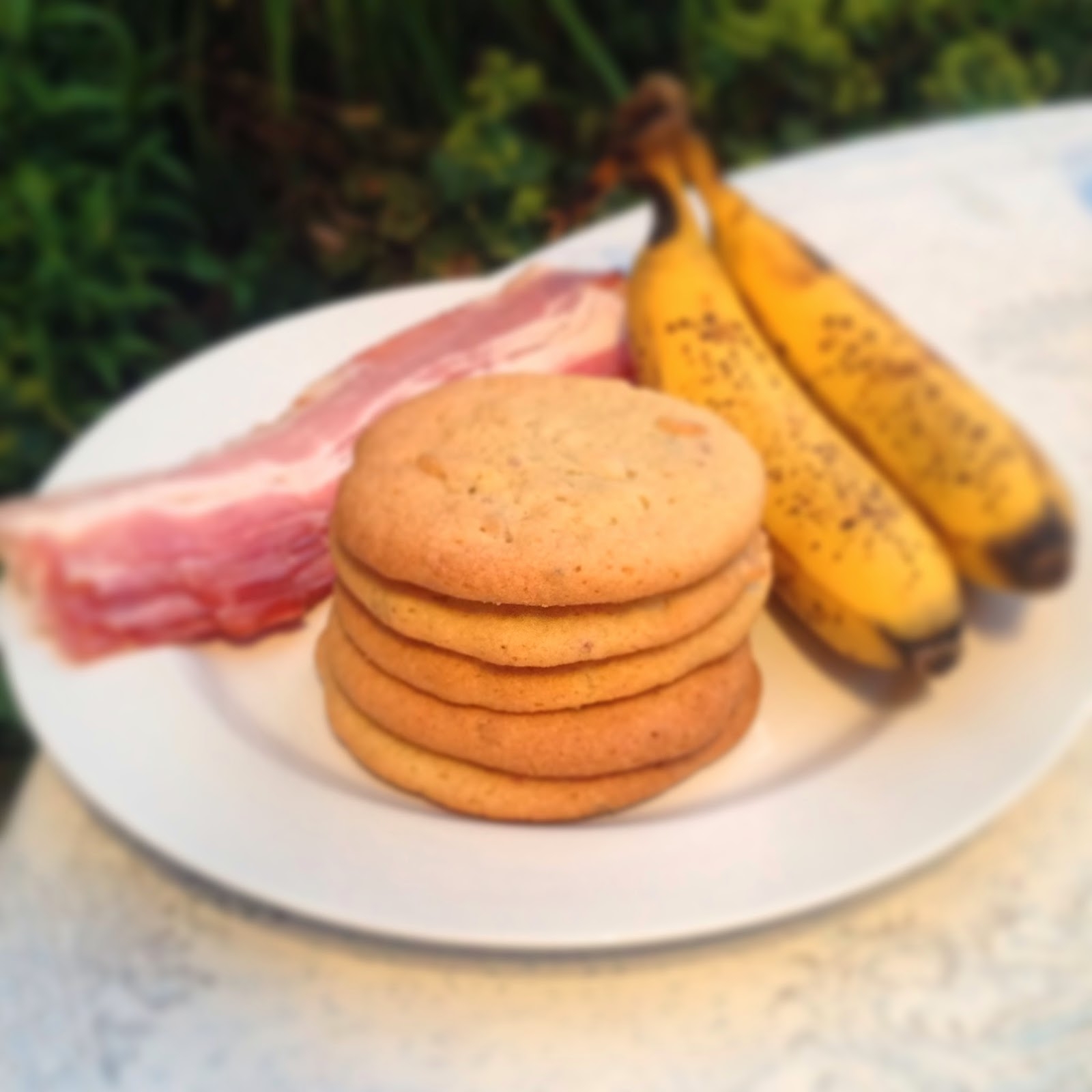 On a hot British summer's afternoon, there is nothing nicer than sitting in your back garden and browsing through recipe books; a feast for your senses, the choice of what to make is almost painful. I want to make it all.
Finally the choice is made, and Dan Lepard's lemon cake is a close second to Heston Blumenthal's bacon and banana cookies. I dash to the shops to pick up vital ingredients only to find my hopes of dashing, dashed, as I become utterly confounded and overwhelmed in the bacon aisle… Yes. This Sainsbury's the size of Tasmania has an entire aisle dedicated to bacon. Too much choice.
An hour later, I return home and set to work. These cookies are simple to make, but the combination of ingredients make for that wow factor and conversation. They also are delicious, and the flavours compliment each other in a surprisingly awesome way.
Ingredients
40g smoked streaky bacon (approximately 5 slices)

220g plain flour

1/4 teaspoon bicarb soda

1/2 teaspoon baking powder

1/2 teaspoon salt

120g unsalted butter, cold and cubed

260g unrefined caster sugar

2 large eggs

60g dried banana, roughly chopped
Method
Preheat the oven to 190˚C.
Place the bacon on a baking tray lined with baking paper and cook in the oven for ten or so minutes. When out of the oven, pat the bacon dry with paper towel, and when cool enough to handle, cut the slices into small pieces.
Sift the flour, bicarb, baking powder and salt into a bowl and set aside.
Using a mixer fitted with a paddle attachment (beaters are fine too), cream the butter and the sugar on medium speed until the mixture becomes light and fluffy. This should take 5 minutes.
Reduce the speed of the mixer to low and add in the eggs one at a time, mixing well.
Add in the flour mixture and continue to mix for 3-5 minutes until a dough is formed. Add the bacon and the banana and continue to mix for 2 minutes.
Dollop fat spoonfuls (approximately 40g) onto a baking tray lined with paper, roughly 10cm apart and bake for 8-10 minutes, or until golden around the edges. Once out of the oven, allow the cookies to rest on the tray for a few minutes before transferring to a cooling rack. The cookies will keep for up to 5 days in an airtight container, and the dough can be frozen in individual portions and baked whenever you need to delight an unexpected guest.