Another year, another birthday. There is always a certain amount of pressure on the choice of restaurant for birthdays, you want to have an amazing meal, and there must be a good dose of atmosphere too, although sometimes a lacklustre vibe can be overlooked if you're bringing enough people to create your own buzz.
Hutong in the Shard serves some of the best Chinese in London. I find that I don't eat as much Chinese here in London as I did when I lived in Sydney. There are so many upmarket, modern Chinese fusion restaurants in Australia, but they are not as prominent here in London. In terms of fulfilling a craving, Hutong certainly did, however, it did much more by serving some of the nicest Chinese cuinsine I've ever had.
The view is dazzling from the 33rd floor of The Shard. If you're not taken in by the view, and you've just come for the food, you won't be diaspoointed. To maximise the view in winter, I would recommend booking a 2.30pm table so that by the time you leave, it is dark and you've witnessed this grand old city turning on her lights. The cocktails are an interesting mix of the classic infused with Chinese ingredients. The Old Peking Fashioned is a little strange tasting, the combination of roasted sesame syrup, chocolate bitters and Cognac don't quite gel – but the Hutong Sunset with its bold combination of whiskey, blood orange liqueur and housemade bitters is a punchy glass of goodness.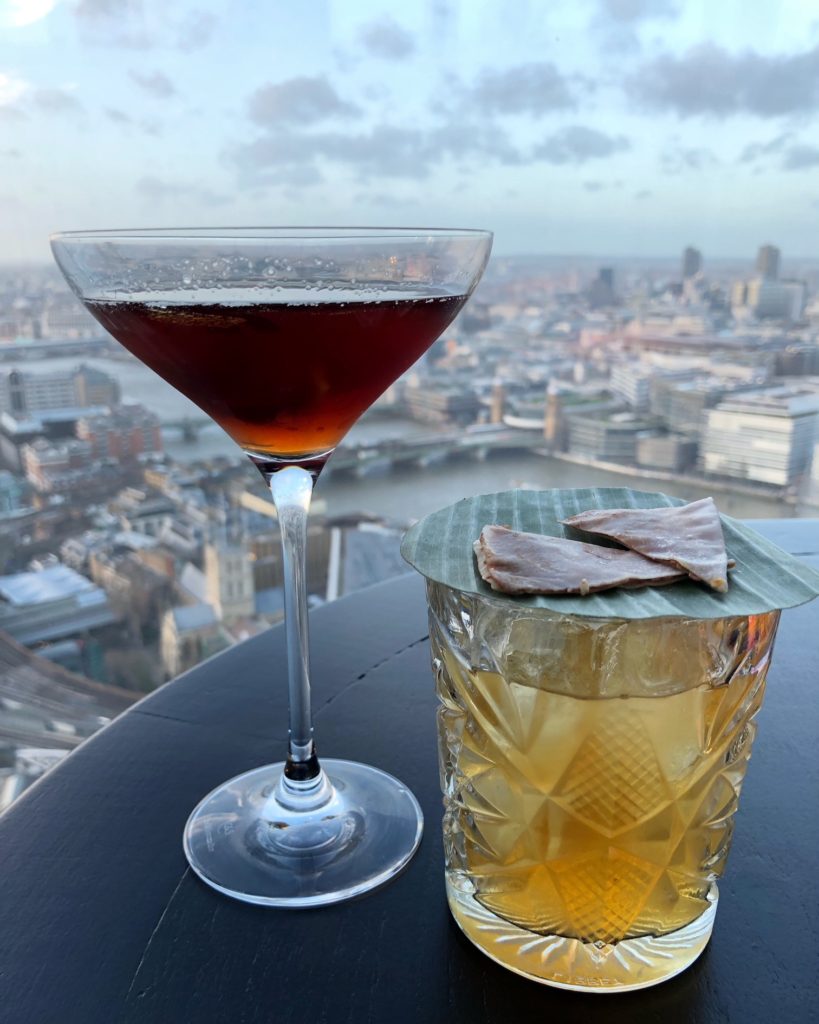 Having taught the art of making dumplings from scratch, and also for the sheer fact that they are bloody delicious, we start with dumplings. They key for a cracking dumpling is to pack as much flavour as you can within the delicate dough-walls. Mission accomplished. The Scallop and Prawn Wontons are brimming with flavour and the dough is like silk, and the way the Xiaolongbao burst in your mouth is a joy.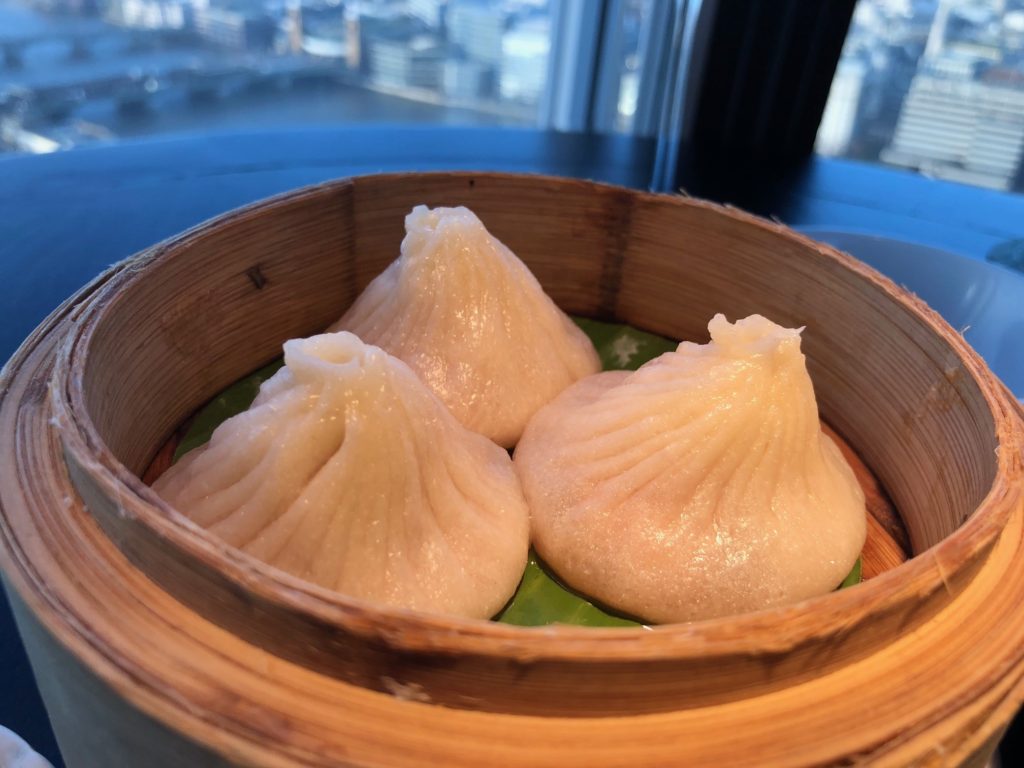 I had done my homework of pouring over the menu and making a shortlist before this lunch, as I didn't want to be stung with the regret of missing something in the panic of ordering. The Red Lantern (crispy soft-shelled crab with Sichuan peppers) is sublime; light, and juicy with a gorgeous heat that builds. A pile of Chinking pork ribs smothered in their sticky sweet glaze is a good choice if you want something a little more substantial.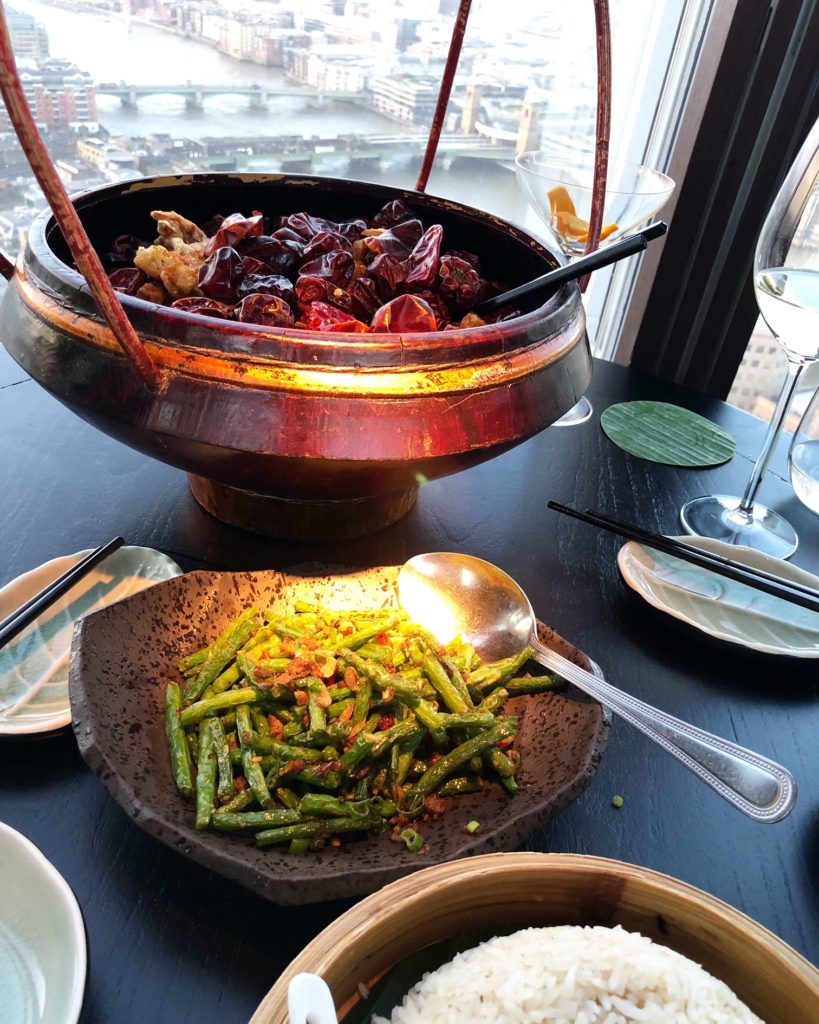 The standout dish, which makes me salivate as I think about it, is the String beans with minced pork. Someone said to me years ago after they spent some time living in China, that nobody does vegetables like the Chinese. I agree. Chinese vegetable dishes are never bland, even though they can be astonighsingly simple. It all has to do with the way they cook the vegetables; always retaining crunch and vitalty thanks to the fast wok cooking.
The rice has a gorgeous smokiness to it. If someone said I had to live on rice and beans, at Hutong this wouldn't be a problem.
Hutong is the ideal restaurant for a special occasion thanks to the trump card of the view, but view aside, the food is simply top notch and worth of much praise.