Although we did glimpse spring last weekend, the frosty pendulum has swung back to winter, and we need warming up. This one pan dish is full of comforting spice and is impressive to present to a hungry table. Accompany with side of simple seasonal greens quickly sautéed in olive oil and lemon juice.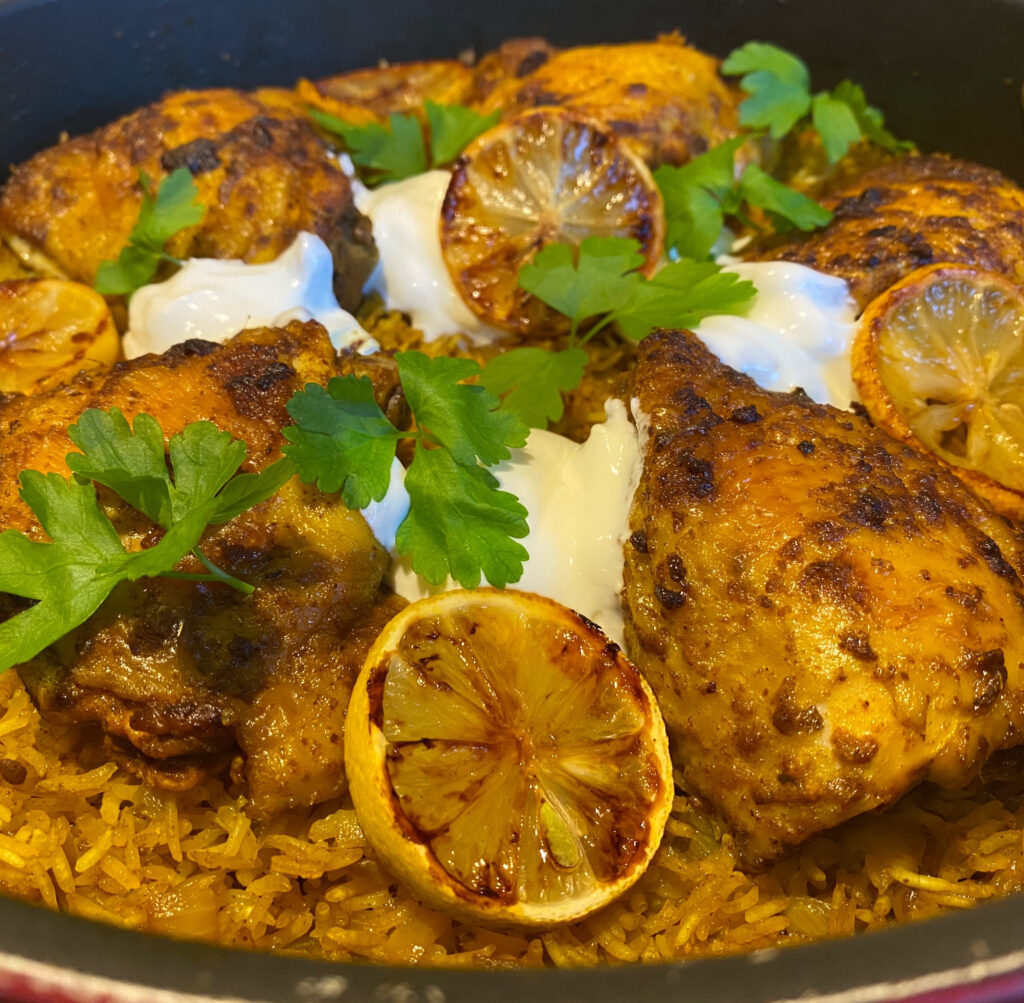 Serves 4
Overnight marinade, plus 80 minutes the next day
Ingredients
Chicken
5 chicken thighs, skin-on and bone-in 2 tablespoons lemon juice
2 dessert spoons ground turmeric
1 dessert spoon smoky paprika
1 desert spoon ground coriander
1 dessert spoon ground cumin
1 dessert spoon dried oregano
4 cloves garlic, crushed
Salt and pepper, to season
Rice
1 brown onion, diced
1 clove of garlic, crushed
1 1/2 cups basmati rice
1 1/2 cups chicken stock
1 cup water
1 tablespoon dried oregano
1 tablespoon ground turmeric
1 teaspoon ground cumin
Sugar, to season
Salt, to season
Lemon, cut into rounds
Lemon juice, to season
Greek yogurt, to garnish
Fresh parsley or coriander, to garnish Chilli flakes, to garnish (optional)
Method
Place the chicken thighs in a large ziplock bag and add all the other ingredients to make a marinade. Mixit well and coat the chicken. It is best left overnight in the fridge for maximum flavour.
When ready to cook, preheat the oven to 190 ̊C.
In a large oven-safe frying pan, splash in some olive oil and heat on high. Place the thighs into the pan,skin-side down and cook until golden brown. This can take anywhere from 5-10 minutes. Turn over andbrown the other side for the same time. Set aside on a plate until later.
Remove any burnt or overly brown bits from the pan but leave whatever else is ok in there. Add anothergood splash of olive oil and return to a medium heat.
Add the diced onions to the pan as well as the oregano, turmeric, cumin and sprinkle the surface withsugar. Sauté until translucent.
Next add the garlic and the rice and mix well together so the rice gets coated in the spices.
Add the stock, water and season well with salt and pepper, and bring to a simmer. Once simmering, takeoff the heat and place the chicken thighs on top of the rice, arranging them in a fanned out circle from thecentre. Add the slices of lemon. Place a lid over and transfer to the oven.
Cook in the oven for 30 minutes. At 30 minutes, remove the lid and continue to cook until all liquid hasbeen absorbed and the rice has formed a nice golden crust, potentially for another 15 minutes. You will need to monitor during this stage as all ovens are slightly different. You want to remove it when the crust has first formed, as the rice underneath will still be tender. Take out of oven.
Rest the dish for about 5-10 minutes.
To serve, garnish with dollops of Greek yogurt and scatter the parsley or coriander all over.